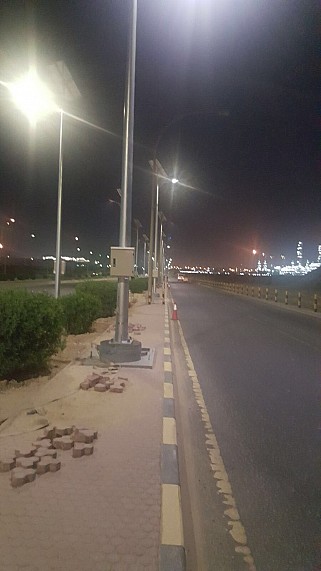 The Kuwait National Petroleum Company (KNPC) is an oil company headquartered in Ahmadi, Kuwait. It is a subsidiary of the Kuwait Petroleum Corporation, a Government-owned holding company. One of the world\'s top refiners. Currently it has two refineries, Mina Abdullah and Mina Al-Ahmadi and other liquids producer in 2017, and fifth-largest exporter in terms of volume of crude oil and condensates.
This Solar Street Light project had very strict requirements that KNPC set in this tender. They requested only high-quality components for Solar Street Lights made in either USA or Europe. The Kuwait Cool & Solar Co. from inception wanted to be recognized as a company who will produce and deliver high-quality Solar Street Light solutions at a lower price point than other companies. The main components of Solar powered street lights are batteries, solar panel, MPPT controller, steel pole, and arms. One of the most important parts is the battery. That is why Kuwait Cool & Solar developed strategic relationships with European and US battery producers.
The battery for KNPC Solar Street Light project was stored in the special box. This solution is recommended for countries with high temperatures such as Kuwait. The battery will have optimal temperature once stored underground which will expand life cycle of the battery. The access to the battery is protected but still easily accessible with the key.
The LED power of this Solar Street Light unit was 80W. For this consumption, we designed battery system of 2x150Ah. The Solar panel power was 270Wp. Galvanization of all metal parts had to be according to highest world standards and Kuwait Cool & Solar Co. had to deliver a sample unit for KNPC approval. The delivered sample passed all KNPC requirements and they were very happy with the quality.
Kuwait and all Middle East and MENA countries are perfect areas for Solar Street Light installation. With so much sun and high Solar irradiance, these areas can light up their streets and roads with clean and free energy.
We at Kuwait Cool & Solar Co. are very happy that we successfully finalized Kuwait National Petroleum Company Solar Street Light project and we hope that this is just the beginning of our expansion in the Middle East and MENA region. For more information about our products please contact us.